Engineering Research Opportunities
For Students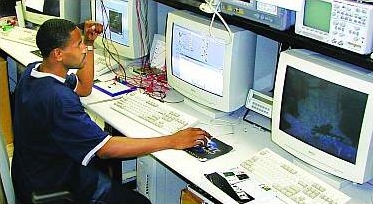 Research Experiences for
Undergraduates (REU)
...more information
Graduate Research
Fellowship Program (GRFP)
...more information
The National Science Foundation (NSF) offers a variety of ways for U.S. undergraduate and graduate students who are interested in science and engineering to get involved in cutting-edge research at major universities—not garden-variety research, but research in emerging fields of technology, in the most advanced laboratories, with world-class investigators as your team members! In many cases, students even receive a substantial stipend to support their work. Imagine getting paid to do fascinating research at one of the flagship Engineering Research Centers, for example—all the way from undergraduate through to your doctoral degree in engineering!

The NSF programs shown above fund students directly. Those shown below don't fund students directly, but instead award academic institutions and faculty with funds that they can then provide, through education programs they establish, to interested students to come study and work with them. To access these, find an ERC whose research area interests you and contact the Education Director there; or contact the NSF program officer for guidance as to the program(s) and institutional awardee(s) most suited to your needs and situation. Note that the programs in the second row are aimed at supporting junior faculty and institution-wide diversity programs.

NSF is making these opportunities available because the Foundation wants to improve the nation's ability to draw upon pools of talent existing among population groups, such as minorities and women, who are underrepresented in today's engineering workforce and on engineering faculties. The opportunities are there for students, young faculty, and prospective Principal Investigators alike. Take advantage of them!